News
Check the best places to see the eclipse of 02/07!
2019-07-02
The day will become night for more than two minutes in the skies of Chile next Tuesday, July 2. Atacama and Coquimbo will be the regions where this phenomenon will be observed with 100 and 95% of visibility, respectively.
We invite you to review the best sites in the north of the country to observe the unprecedented astronomical event, according to the Chilean Astronomy Foundation.
Domeyko (Atacama region): It is the best place in terms of visualization, but the eclipse will only be seen 22 seconds.
Cachiyuyo (Atacama region): It is an excellent place to get with your camper, as it has low hills and little cloudiness.
Posada El Escorial (Atacama region): It has hills that will offer you a postcard image, as well as scarce cloudiness.
La Silla Observatory aerodrome (Coquimbo region): It was established by the Foundation as the best place to establish a "base camp".
Incahuasi (Atacama region): in this area the eclipse will be seen for a long time.
Entre Pircas (Atacama region): It will have the same conditions as La Higuera, but with less cloud cover.
La Higuera (Coquimbo region): The eclipse will reach its maximum duration in this area, but being close to the coast could present cloudiness.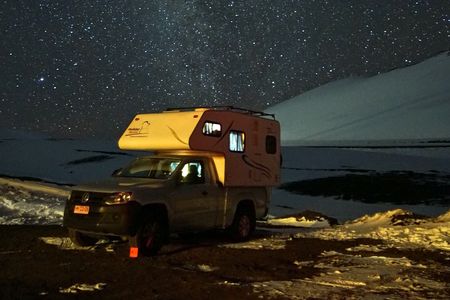 Get ready for the ski season in Chile!
2019-05
The mountains of Santiago and the south of Chile are known worldwide not only for their beauty but for the excellent quality of their ski fields and we want to tell you that they are close to opening.
The ski season starts in mid-June 2019 and ends in October of this year, date where the highest quality snow accumulates, so we invite you to schedule your vacations with time and enjoy the beautiful scenery that Chile offers in winter. And even more if it is in a Holiday Rent RV camper fully equipped for cold and hot weather conditions, and adverse terrain.
We invite you to enjoy the diversity of the most beautiful country of the end of the world in 4x4 vehicles, equipped for the needs of each explorer, with different models that include the requirements of each client, such as bathrooms with shower, heating, hot water, kitchen, among other amenities.
Committed to inclusive trekking
April 2019
We are proud to tell you that Holiday Rent RV joined the wonderful inclusive hiking project that takes place in the Altos de Lircay National Reserve, promoted by the Trekkingchile Foundation.
On this occasion, our company together with others from the tourism industry, made the donation of a unicycle, a vehicle adapted for the displacement and enjoyment of visitors in situations of disability and reduced mobility.
At the delivery ceremony held on March 29, participated Marcelo Mena, regional director of the National Forestry Corporation of the Maule Region, and Franz Schubert, president of the TrekkingChile Foundation, among others, and was attended by the Holiday Rent RV directors, Carlos Corrales and Juan Eduardo Buchroithner.
Total success at the ITB Fair in Berlin!
April 2019
Thousands of companies from all over the world came to Berlin, Germany, to attend the most important tourist fair, where the aim was to show the whole audience and the great tourism agencies of Europe, the wonders of Chile, its variety of offers and landscapes to discover.
The event took place between March 6 and 10, and during the event, Holiday Rent RV achieved its main objective, which was to achieve greater closeness with its European partners, in addition to generating new contacts in general.
During the fair, our representatives of Holiday Rent RV held dozens of meetings with agencies with which they already work, and also with new ones that seek to expand their offer to South America. In addition, there was an opportunity to share with the final consumers and customers, who sought advice on the experience and seriousness of our company.
After the fair, our team traveled to several cities such as Hannover, Köln and Zürich in Switzerland to meet with other agencies with which it already works, in order to deepen the relationship.
New communication devices available for rent!
2019-03-13
We are offering to our customers the rent of our new communication devices: a satellite phone and a GPS with satellite communicator.
The digital satellite telephone, brand Inmarsat model Isatphone, will guarantee your connectivity with Holiday Rent or with whom you need to communicate wherever you want, whenever you want. It does not matter if it is on the tip of a volcano, or in the heart of the desert, there will be no barriers to communicate. The phone comes with a charger kit (a domestic charger, usb and 12V) and its battery lasts 8 hours in use and up to 160 hours in standby.
The portable satellite communicator, brand Garmin model inReach Explorer +, has been developed for adventurers who want to go further and live other experiences, without compromising the calm of their loved ones. It offers navigation functions through a topographic map of Latin America preloaded with GPS tracks, built-in digital compass, barometric altimeter and accelerometer, meteorological information, track tracking and sharing your location in Social media, communication via sms or email and emergency SOS messages.
Both devices are an excellent choice to provide support and security during your adventure.
Team Building Holiday Rent
September 2018
In September 2018 we went with Holiday Rent RV on expedition, this time to Patagonia. We wanted to live the experience of our clients and all aspects of traveling by camper. We can say this trip was a great experience and success: we enjoyed nature, its flora and fauna, wild camped and so on. Also we had to deal with unforseen circumstances that happen on the way like we got stuck in the snow, had to use 4x4 for multiple routes and needed to replace a broken tire.
As if it was not enough we also conducted several tests related to teambuilding and our work. We drove blindfolded over a bridge, trusting a colleague who was giving the directions. We caught fish and did some shooting exercises and practised how to survive in nature. It was a trip to remember for a long time, where we got to know each other better as a team but above all the great experience of traveling by camper and explore our beautiful country Chile.
Chile has incomparable nature with an infinity of landscapes and destinations on offer, which we definitely recommend you visit at least once in your lifetime.