News
Another total solar eclipse – Observe it from your camper!
2020-07-07
Chile is one of the lucky countries where the total eclipse can be seen two years in a row. Did you miss it in 2019? In December you have another chance to be part of this spectacular event.
The total eclipse will be on December 14th, 2020 in the southern part of Chile. The best place to see it is around the city of Temuco, especially in Villarica and Pucon. Park your camper where you will have the best view and observe this natural phenomenon in total privacy.
Live the experience of a lifetime and our camper will accompany you. It will makes you feel like home while travelling in beautiful nature.
Environmental care: A key issue for Holiday Rent RV!
Nowadays the environment suffers the onslaught of civilization and human neglect, however, in Holiday Rent RV we seek to contribute with a grain of sand to a cause that contributes to the restoration of sustainable environments and CO2 compensation.
Through the Fair Chile program, from the Trekkingchile Foundation, we have been planting native trees throughout the country. And at Holiday Rent RV our commitment to this cause is clear: A RENTAL, A TREE. For each lease that is generated, our company donates a native tree through Fair Chile.
The purpose of this institution is to plant native trees, the purchase and protection of valuable natural areas, and the execution of permanent projects to sensitize the population.
Help us continue to reforest the Chilean native forest. Remember that your rental of any of our campers contributes to this noble cause.
The day gets dark this December 2020 in Chile… make your reservation!
14 December 2020!
Did you miss the total eclipse of 2019? Don't worry ... you still have a chance. On December 14 of this year, a new solar event is expected to occur this time in southern Chile.
But you must hurry because, according to the country's tourism authorities, more than 7 months ago that hotel reservations in Pucon already exceeded 90%. "For many years there was no event that generated so early the interest caused by the eclipse," said the president of the Chamber of Tourism of Pucon.
The solar eclipse can be seen around the city of Temuco, especially in Villarrica and Pucon.
Be part of this unique phenomenon of nature... book your Holiday Rent RV camper
Chile wins the prize "Best Green Destination in the World"
2019-12-18
For the first time since the World Travel Awards were delivered, Chile was awarded as the best green destination in the world.
But this is not the only prize that the so-called southern country of the world received. It was also chosen for the fifth time as the best adventure destination in South America. And the Atacama Desert was consecrated, for the second consecutive year, as the most romantic destination.
The national director of Sernatur, Andrea Wolleter, said that "these awards are a reflection of the work we have promoted together with the industry to position Chile as an unmissable destination and highlight the differentiating characteristics that position us as a unique place".
The World Travel Awards are delivered by popular vote since 1993 to recognize world tourism and are considered the Oscar of the field.
Holiday Rent RV launches new economic models
2019-12-03
These are two economic and comfortable vehicle. Both are equipped for two people and offer an excellent alternative to those who want to live the adventure at its best, at low cost.
One of the new models is the Eco camper, installed in Suzuki vans, APV pick up model, with 4x2 traction, gasoline engine and mechanical transmission.
The other is the Eco Adventure, installed in Lada SUVs, Niva model, with 4x4 drive, gasoline engine and mechanical transmission.
Both are immediately available so our adventurers can live a 100% outdoor experience right now.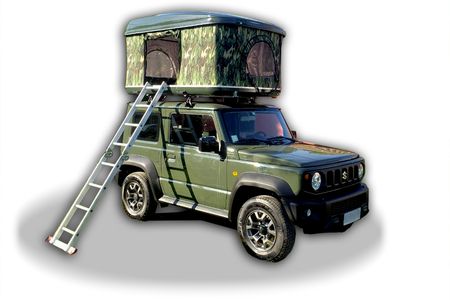 New Altiplano mini: Renovated and improved
2019-10-28
Because every day we seek to improve the customer experience with our campers, is that today we have a new model of our mini Altiplano.
The car
Now we have Suzuki Jimny 4x4 2020 vehicles with capacity for four people and a 1.4-petrol engine and power steering. In addition, it has a radio with bluetooth and its average consumption is 15.7 km / l.
The camper / roof tent
The tent is Rodopi Camper brand and can accommodate two adults and one child. It weighs 71kg and measures 210x140x110cm being open and 210x140x35cm closed.
This model is perfect for adventurers looking for a camper of low weight and maximum versatility. Its interior led light will illuminate all your nights and your comfort will ensure long nights of rest.