Vehicles
Holidayrent features 2 types of Campers:
Truck campers, these versatile nomads of the recreational vehicle world, epitomize the essence of wanderlust and self-sufficient travel. Designed to be mounted onto the bed of a pickup truck, these compact marvels combine the mobility of a vehicle with the comfort of a miniaturized home, allowing adventurers to embark on journeys that seamlessly blend the thrill of the open road with the coziness of homey living spaces.
From off-grid escapades to cross-country odysseys, truck campers offer a unique way to explore the world without sacrificing the comforts and conveniences that make travel truly enjoyable.
Rooftop tent campers, the ingenious solution to elevated outdoor adventure, redefine the concept of camping by taking it to new heights—literally.
These innovative shelters perch atop vehicles, transforming ordinary cars into cozy nests for intrepid explorers. With swift setup and panoramic views, rooftop tent campers effortlessly blend the thrill of camping with the ease of modern convenience, offering a unique vantage point to immerse in nature's beauty while still relishing in the comfort and mobility that these elevated abodes provide.
Truck Campers:
Andino Camper 4x4
Truck Camper, 4x4, 2 pax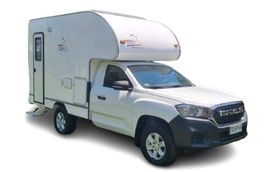 Single cabin

Patagonia 4x4 single cab
Truck Camper, 4x4, 2 pax


Single cabin

Patagonia 4x4 double cab
Truck Camper, 4x4, 3 pax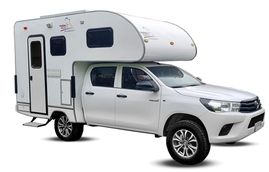 Double cabin

Rooftop Tent Campers:
Altiplano 4x4 Comfort
Rooftop Tent Camper, 4x4, 2½ pax



Roof Tent