Travel freely the magical Machu Pichu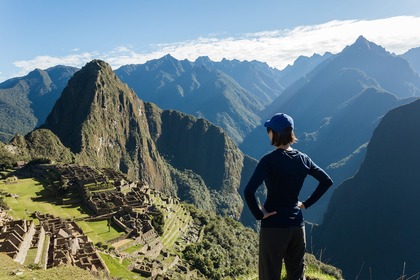 Day 1 Arica, Chile
Holiday Rent offers the option of giving you a camper in Arica, from where you can cross to Peru and start with the incredible adventure. Here you can buy everything to start your trip.
Day 2 – 3 We arrive in Peru - Arequipa
( 184 - 300 km )
You cross the border and you are in Peru. There are still about 850 km to reach Cusco, so we will take a few stops along the way to see the most interesting towns on this route that borders the Pacific Ocean.
We recommend you take at least one day to enjoy Arequipa, the renowned "white city" for its colonial buildings made of ashlar - a volcanic stone of that color - that attracts the attention of its tourists not only for that reason, but also for the volcanoes and hills that surround it. Do not miss visiting the Santa Catalina monastery and the Plaza de Armas.
Day 4 – 5 – 6 Colca Canyon
A majestic canyon of 4,160 meters deep is the stunning panorama of Colca. You can park at the famous Cruz del Cóndor viewpoint, where these birds are sighted. The good thing about sleeping here is that the best time to see condors is early in the morning, before other tourists arrive.
Located about 200 kilometers from Arequipa, we recommend you take a tour package to take advantage of this landscape and also do trekking and walks around the place. In addition, you can visit the traditional villages and ancient churches that are still preserved.
Day 7 – 8 Puno
( 462 km from Tacna or 358 km from Ilo )
Puno is an interesting city, where you can visit Amaru Muru and the floating islands of the Uros
Day 9 – 10 – 11 Cusco
( 387 km )
Cusco is one of the most beautiful cities in Latin America. Here it's worth staying at least two days, not only because you've been traveling for several hours, but also to get to know the city and eat the typical food.
To camp in tent and vehicle there is only one place called Quinta Lala, which has a value of 12 Peruvian soles (4USD) per person and 12 soles (4USD) per vehicle and includes water, kitchen and hot shower.
Day 12 Route Sacred Valley of the Incas
( 214 km )
From Cusco we continue to Pisac in the direction of our destination: Santa Teresa, one of the cities closest to Machu Pichu. It is a spectacular route called Sacred Valley of the Incas, which passes through Calca, Urubamba and Ollantaytambo, among others.
Nearby is the Machu Picchu hydroelectric plant, where you can find a small guarded parking lot 24 hours a day. It's time to leave our camper for a few days, since you can`t get closer in any private vehicle. From there you can take a transfer or the train (you can find out at http://www.perurail.com/ if it is open) to Aguas Calientes, where you must book accommodation. You can also get there by walking for about 3 hours, but quiet.
Day 13 Aguas Calientes
It is a good place to prepare everything you will need for the Machu Pichu tour. You can reach the ruins by walking or by bus. Keep in mind that these leave at 5:30 AM and you can see the conditions here http://boletomachupicchu.com/comprar-tickets-bus-aguas-calientes-machu-picchu/
There are many restrictions to enter the citadel, such as the prohibition of carrying tripods, food, canes, umbrellas, pets ... You will also have a walk of approximately 2 hours, so you will want to take only what is necessary such as water and a snack.
Day 14 Machu Pichu
The day has arrived. Early depart the first tours that will take you to Machu Pichu. We recommend that you book with a guide and buy the ticket in advance. You can do it at http://boletomachupicchu.com/
For those who prefer to make it more tranquil, they can make the walk around the citadel, visiting all the ruins of the place with a panoramic view. For the more adventurous, there are two options with walks to access places with greater view. Fully recommended if you like to walk. You will go back to sleep in Aguas Calientes.
Day 15 Cusco
( 214 km )
Back in our camper. There is a road of approximately 4:30 hours to Cusco, so if you are still tired you can spend another day in nature. If you want to continue, go to Cusco that same day. You can return to park at Quinta Lala
Day 16 Back to Chile
( 182km )
The return to Arica will be through the alternative route, to find out more about Peru. This time we will not go through Puno, but through Arequipa. The first destination will be Laguna Langui Layo, an incredible natural landscape with crystal clear waters.
Day 17 Arequipa
( 456 km )
From here we leave early to Arequipa, since there is a long trip to travel.
Day 18 Catarindo Beach
( 130 km )
From Arequipa we recommend you to stop for a night at Playa Catarindo, an excellent place to get to know and enjoy, with a bay to swim with low waves.
Day 19 Arica, 142 km from Putre
( 142 km )
The trip is over We hope you enjoyed it!
Recommended time for this trip: 2 - 3 weeks.
IMPORTANT!
To be able to enter the vehicle to Peru, it is necessary to have the following documents:

Passport with customs stamp or identity card.
Driver's license.
Documents of the car.
SOAT (can be acquired at customs).

On the road to Machu Pichu you must pay tolls on the road, so we recommend you take some cash.
Bring your own water because in the north of Peru it is not potable.
Routes in North Chile