Travel by camper and take care of the environment
Help us to take care of the flora and fauna when you travel by camper and we will take care of you.
We have committed to:
One tourist = One tree
Holiday Rent RV has been committed to the environment for years. This commitment carries out concrete and effective actions to protect Chilean biodiversity. We donate a tree for each rental.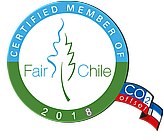 Innovate and improve our work
We are always aware of how we can innovate and improve our work. Where in the past we delivered a folder with all the documents printed for the client and their trip at the time of the camper pickup, now we send these documents digitally and in advance. The client can read all the information calmly and contact us in case of doubts or questions. In this way we are not printing and throwing away more paper than necessary.
We have also seen the need to build our own campers, in order to meet the suggestions and needs of our customers.
Biodegradable products
We recommend using the toilet of the camper in urgent cases, preferably the toilets of the service station, camping, restaurant etc. can be used. For bathroom use, we will provide biodegradable products and papers that break down quickly and leave no thick residue.
Discharge from black and gray water tanks
As in South America we do not always have the necessary infrastructure to discharge black water tanks, we modified the integration of the bathroom. Now we have cassette toilets, which makes it easy to discharge this tank only in authorized places, inquire about discharges in the service areas of the highways, service centers and campsites. It should never be emptied in the field, river, lake, sea or in sewers, since the sewer does not always flow into a sewage treatment plant.
Trash and washing
When you travel, you will have garbage every day. Always recycle plastic, glass, paper, and cardboard in the designated place.
Never wash clothes or other materials in the sea, rivers or lakes. That will affect aquatic life and it is what we do not want.