News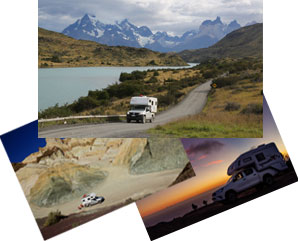 Congratulations to the winners of our photo contest!
Total success! We received more than 240 wonderful and impressive photos from our customers enjoying their Holiday Rent RV campers.
The choice was not easy, but after several rounds of review, we present the winners:
Hans-Peter Gulder, with his/her photo NP Torres del Paine.
Gé Weisscher, with his/her photo Cerro Alcazar.
Lino Prahov, with his/her photo Puesta de sol.
We remind you that you can use your prizes until July 2020.
Congratulations to the winners and thanks to all the customers who participated.
Camper route of the month
Marvel at nature in the national parks of Chile
Flowering desert, rainforests and Patagonian icebergs. Almost all climates can be found in this long and narrow country that is Chile. Each area hides indescribable natural mysteries that can only be discovered in their entirety when travelers enter them.
And what better than in a Holiday Rent RV 4x4 camper equipped for all terrain to live on site what each of the parks in Chile have to dazzle.
We invite you to know the best national parks in the country, and schedule a trip tailored to each adventurer.
Special Offers
Pick-up: Calama
2019/10/07 or later dates close by
Drop-off: Santiago
2019/10/21 or earlier dates close by
---
Pick-up: Santiago
2019/10/07 or later dates close by
Drop-off: Calama
2019/10/17 or earlier dates close by
---
Pick-up: Santiago
2019/10/07 or later dates close by
Drop-off: Puerto Varas
2019/10/22 or earlier dates close by
| | |
| --- | --- |
| | High quality vehicles |
| | |
| --- | --- |
| | 24 hour emergency assistance |
| | |
| --- | --- |
| | Close to airport, highway and Mall |
| | |
| --- | --- |
| | 25 years of experience |
| | |
| --- | --- |
| | Space to rest and prepare for your trip |
| | |
| --- | --- |
| | Multilingual staff |