Commitment to the Environment
Holiday Rent has wanted to join this initiative which supports the preservation of the environment, participating in this commitment that carries out concrete and efficient actions in order to protect Chilean biodiversity.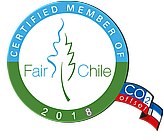 The problem
Involuntarily, tourist activities cause harm to the environment, either by CO2 emissions or by decreasing the biodiversity of visited places.
This damage is inevitable, but can be compensated with repairing actions, for instance in this case by planting trees which help diminish the greenhouse effect with their oxygen and are also home of many species.
We have committed to:
One tourist = One tree
"FairChile is technically supported by the Universidad Católica del Maule and is sponsored by the National Forest Corporation (Corporación Nacional Forestal, CONAF), in charge of the National System of Wild Areas. Protected by the Chilean state, the National Tourism Service (Servicio Nacional de Turismo, SERNATUR), the Ministry of Environment and the Food and Agriculture Organization (FAO) of the United Nations.
The foundation Trekking Chile together with CONAF plants native trees once a year, this is financed through donations of companies that participate in this initiative.
http://www.fundaciontrekkingchile.cl/fair-chile/