News
Holiday Rent RV published in ´AutoBild Reisemobil´
Last year 2019 photographer and journalist Thomas Ruddies, who writes for the magazine "AutoBild Reisemobil", was on the road in Chile with our campers. First he was traveling in the south and experienced the beauty of the Torres del Paine and the many other national parks in this region. Then we went north into the Atacama Desert, the other extreme of what Chile has to offer. This trip resulted in a great article that was published in the 5th edition 2020 in the "AutoBild Reisemobil" magazine. The pictures of this trip have become unique and reflect the immense beauty of Chile. We are happy to share the pictures with you and also the article (unfortunately this is only in German). A big thank you to Thomas Ruddies for the excellent review and the impressive photos.
Camper route of the month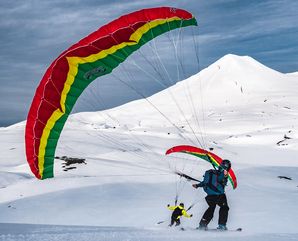 Speed-riding off volcanos
Although it is summer to the south of the world, the idea of skiing in Chile is a dream for all winter lovers. It is not necessary to watch movies or to be told ... this is a wish that is always there.
Check this note where I tell you all about my amazing adventure in the magical volcanoes and mountains of Chile.
| | |
| --- | --- |
| | High quality vehicles |
| | |
| --- | --- |
| | 24 hour emergency assistance |
| | |
| --- | --- |
| | Close to airport, highway and Mall |
| | |
| --- | --- |
| | 26 years of experience |
| | |
| --- | --- |
| | Space to rest and prepare for your trip |
| | |
| --- | --- |
| | Multilingual staff |