News
The day gets dark this December 2020 in Chile… make your reservation!
Did you miss the total eclipse of 2019? Don't worry ... you still have a chance. On December 14 of this year, a new solar event is expected to occur this time in southern Chile.
But you must hurry because, according to the country's tourism authorities, more than 7 months ago that hotel reservations in Pucon already exceeded 90%. "For many years there was no event that generated so early the interest caused by the eclipse," said the president of the Chamber of Tourism of Pucon.
The solar eclipse can be seen around the city of Temuco, especially in Villarrica and Pucon.
Be part of this unique phenomenon of nature... book your Holiday Rent RV camper
Camper route of the month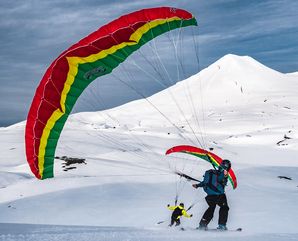 Speed-riding off volcanos
Although it is summer to the south of the world, the idea of skiing in Chile is a dream for all winter lovers. It is not necessary to watch movies or to be told ... this is a wish that is always there.
Check this note where I tell you all about my amazing adventure in the magical volcanoes and mountains of Chile.
Special Offers
Pick-up: Santiago
2020/01/29 or later dates close by
Drop-off: Punta Arenas
2020/02/25 or earlier dates close by
---
Pick-up: Calama
2020/01/24 or later dates close by
Drop-off: Santiago
2020/02/26 or earlier dates close by
---
Pick-up: Puerto Varas
2020/01/27 or later dates close by
Drop-off: Puerto Varas
2020/02/26 or earlier dates close by
| | |
| --- | --- |
| | High quality vehicles |
| | |
| --- | --- |
| | 24 hour emergency assistance |
| | |
| --- | --- |
| | Close to airport, highway and Mall |
| | |
| --- | --- |
| | 26 years of experience |
| | |
| --- | --- |
| | Space to rest and prepare for your trip |
| | |
| --- | --- |
| | Multilingual staff |