News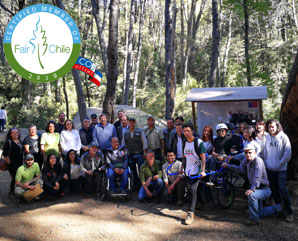 Committed to inclusive trekking
We are proud to tell you that Holiday Rent RV joined the wonderful inclusive hiking project that takes place in the Altos de Lircay National Reserve, promoted by the Trekkingchile Foundation.
On this occasion, our company together with others from the tourism industry, made the donation of a unicycle, a vehicle adapted for the displacement and enjoyment of visitors in situations of disability and reduced mobility.
At the delivery ceremony held on March 29, participated Marcelo Mena, regional director of the National Forestry Corporation of the Maule Region, and Franz Schubert, president of the TrekkingChile Foundation, among others, and was attended by the Holiday Rent RV directors, Carlos Corrales and Juan Eduardo Buchroithner.
Camper route of the month
Chile's Beaches.... in the winter and summer!
You don't need the sun to enjoy the beach and sports lovers know it: a good wave for surfing or the perfect wind for kitesurfing can be even more exhilarating.
Chile boasts over 4,000 kilometers of coastline and hundreds of beaches. Many of these represent an attraction for national and international beach-goers and athletes alike.
Check out the best destinations of the North, Central Region, and South of Chile here.
Special Offers
Pick-up: Punta Arenas
2019/05/15 or later dates close by
Drop-off: Santiago
2019/06/30 or earlier dates close by
---
Pick-up: Punta Arenas
2019/05/15 or later dates close by
Drop-off: Santiago
2019/06/30 or earlier dates close by
---
Pick-up: Santiago
2019/05/15 or later dates close by
Drop-off: Santiago
2019/06/25 or earlier dates close by
| | |
| --- | --- |
| | High quality vehicles |
| | |
| --- | --- |
| | 24 hour emergency assistance |
| | |
| --- | --- |
| | Close to airport, highway and Mall |
| | |
| --- | --- |
| | 25 years of experience |
| | |
| --- | --- |
| | Space to rest and prepare for your trip |
| | |
| --- | --- |
| | Multilingual staff |