News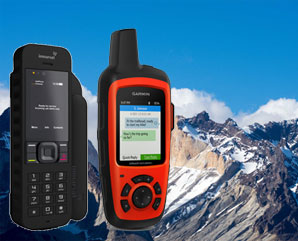 New communication devices available for rent!
We are offering to our customers the rent of our new communication devices: a satellite phone and a GPS with satellite communicator.
The digital satellite telephone, brand Inmarsat model Isatphone, will guarantee your connectivity with Holiday Rent or with whom you need to communicate wherever you want, whenever you want. It does not matter if it is on the tip of a volcano, or in the heart of the desert, there will be no barriers to communicate. The phone comes with a charger kit (a domestic charger, usb and 12V) and its battery lasts 8 hours in use and up to 160 hours in standby.
The portable satellite communicator, brand Garmin model inReach Explorer +, has been developed for adventurers who want to go further and live other experiences, without compromising the calm of their loved ones. It offers navigation functions through a topographic map of Latin America preloaded with GPS tracks, built-in digital compass, barometric altimeter and accelerometer, meteorological information, track tracking and sharing your location in Social media, communication via sms or email and emergency SOS messages.
Both devices are an excellent choice to provide support and security during your adventure.
Camper route of the month
Chile's Beaches.... in the winter and summer!
You don't need the sun to enjoy the beach and sports lovers know it: a good wave for surfing or the perfect wind for kitesurfing can be even more exhilarating.
Chile boasts over 4,000 kilometers of coastline and hundreds of beaches. Many of these represent an attraction for national and international beach-goers and athletes alike.
Check out the best destinations of the North, Central Region, and South of Chile here.
| | |
| --- | --- |
| | High quality vehicles |
| | |
| --- | --- |
| | 24 hour emergency assistance |
| | |
| --- | --- |
| | Close to airport, highway and Mall |
| | |
| --- | --- |
| | 25 years of experience |
| | |
| --- | --- |
| | Space to rest and prepare for your trip |
| | |
| --- | --- |
| | Multilingual staff |