Chile / Requirements to enter Chile
Requirements for entering Chile
As of October 1, non-resident foreigners will be allowed to enter Chile in compliance with the following requirements:
To have a negative PCR, taken 72 hours before departure, counting from the last boarding on flights with stopovers
To have received a complete vaccination program, which you must validate before entering Chile at mevacuno.gob.cl to obtain a 30-day mobility pass, which becomes active after the mandatory confinement. Vaccines must be those approved by the Chilean Public Health Institute (ISP), the World Health Organization (WHO), the United States Food and Drug Administration (FDA) or the European Medicines Agency (EMA).
Fill out the "Affidavit for Travelers" form online, up to 48 hours before departure, in which you will provide your contact and health information and your travel details. This form will issue a QR code as a means of verification. This form is available at www.c19.cl
Any person, regardless of their nationality, who has a booster dose applied in the last 6 months prior to the trip and that is registered and validated in their Mobility Pass will be exempted from testing and isolation upon entering the country. Those who have a Mobility Pass, but who do not have their booster dose, should be tested at the point of admission and perform isolation until their negative result.
All those people who do not have their vaccines validated, regardless of their nationality, must be tested and isolated. The quarantine is extended for 5 days, even if your test result is negative.
To have medical insurance with a minimum coverage of USD 30,000, which covers any expenses caused by Covid-19.
For 14 days after you enter the country, you will receive a follow-up form sent daily to your e-mail. Timely completion is mandatory.
Border Crossings:
As of December 1, three land border crossings will be added, through which both Chileans and resident foreigners and non-resident foreigners will be able to enter the country. Chacalluta, in the Arica and Parinacota Region; Colchane, in the Tarapacá Region; and Pino Hachado, in the Region of La Araucanía.
A month later, that is, on January 1, the Los Libertadores (Valparaíso), Cardenal Samoré (Los Lagos) and Río don Guillermo (Magallanes) passes will also be enabled. These steps are added to the four airports that are currently enabled to enter the country -Santiago, Iquique, Antofagasta and Punta Arenas-
What will be the best way to travel? By camper of course! Plan your winter holidays by camper and live the best experience during this pandemic by traveling in Chile.
With our mobile homes (campers) you can choose to go wherever you want; to the mountains, snow, beach, lake, desert or all previously mentioned. Our campers come fully equipped so you don't have to worry about that.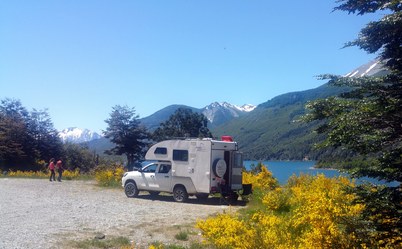 Plan COVID-19, Viajar a Chile