Vehicles / Atacama Camper 4x4 double cab
Atacama Camper 4x4 double cab
Camper details


One double bed (1,40 m x 2,00 m / 4.59 ft. x 6.56 ft.)
One single bed (1,25 m x 2,00m / 4.10 ft. x 6.56 ft.)
Auxiliary battery
Three-way refrigerator (57 l / 15.06 gallons)
Gas stove
Electric water pump
Boiler
Heated ventilation
Dining table
Sink
Built-in chemical toilet
Shower
Connection to external power supply
Electrical outlet (Only works when camper is connected to external power supply)
100 l (26.42 gallons) water tank
20 l (5.28 gallons) gray water tank
Interior height: 1.95 m (6.4 ft.)
Vehicle details
Dodge Ram 2500/1500 4x4
Max. 5 people
Diesel / gasoline
Automatic transmission
Radio with CD player
5900 cm³ / 6 cylinders
325 HP
150 l tank (39.63 gallons)
Consumption: on average 20 l / 100 km
Length: 6.35 m (20.83 ft.)
Breadth: 2.10 m (6.89 ft.)
Height: 3.15 m (10.33 ft.)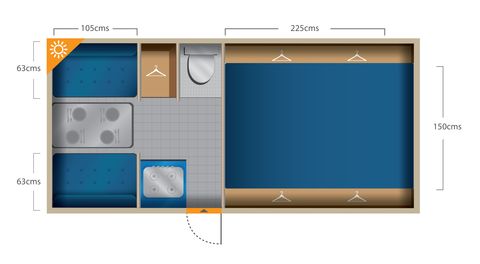 Rates for the Atacama Camper 4x4 double cab

Pricing structure
Our rental prices are calculated on a daily basis and depend on a number of factors like:

The total length of the rental period.
Longer periods are cheaper and the amount of discount depends on the length of the rental period.
Pickup and drop off locations.
While having our main branch office located in Santiago, it is possible to pickup and dropoff in other cities and regions with an extra cost involved.
Tip! Check out our offers for some great discounts, if you are planning on dropping off or picking up a camper outside of Santiago.
The seasons during which the rental takes place.
Prices are different during the main (summer)and off-season (winter)
Terms and Conditions
Terms of payment
Cancellation policy
30 % of total price upon reservation
90 days prior to arrival - 10 % of total price
89 to 45 days prior to arrival - 30 % of total price
Total balance 45 days prior to arrival
44 to 20 days prior to arrival - 80 % of total price
19 to 0 days prior to arrival - 100 % of total price
Minimum requirements
• National driver's license (international driver´s licence very recommendable!).
• Credit card with a limit of minimum 1.400 € for the guarantee.
• Minimum 25 years of age.
Included for your safety and convenience
Car equipment:
Spare tire
Wheel wrench
Lifting jack
Tool box
Jumper cable
Tow rope
Reflective vest
Fire-extinguisher
Warning triangle
First-Aid- Kit
Full fuel tank (to be given back full)
Camping equipment*
Outdoor grill
Outdoor tables and chairs
Extension cable and high voltage adaptor 220 V (always included)
Water hose (always included)
Full water tank (always included)
Propane gas cylinder (always included)
Kitchen & Cleaning equipment*
Kitchen appliances
Cleaning agents
Bedding equipment*
Bed sheets or Sleeping Bags
Pillows
Towels
Besides:
200 km daily (possible to increase to 300 km or 450 km daily)
Tourist guide with roadmap from Copec
Up to 10,000 CLP highway toll (This only applies to the automatic TAG system. Toll fees have to be paid in cash at the toll booths and are on the passenger's expense.)
24 hours emergency phone service
Emergency cell phone
*For rentals between 1 and 14 days, camping, cleaning and kitchen equipment is not included. It is possible to rent these as extra (see "camper equipment" in extra list).
Accessories & Extras available for small additional price
Item
Additional wheel replacement
Air compressor
Axe
Battery-powered lamp
Camper equipment for rentals of 1 - 14 days length
Camping gas stove
Child seat
Copy of camper keys
Copy of car keys
Extra blankets
Gas lamp
Gas tank 20 l
GPS
Manometer
Portable electric heating
Snow chains
Spade
Tent with capacity of 2 persons
Contingency Kit 
(Gas tank, 2. wheel replacement, 2. set of keys for camper & vehicle)
Security Kit 
(Snow chains, air compressor, manometer, spade, axe)
Second driver permit
100 km daily mileage extra
250 km daily mileage extra
other accessories upon request
We kindly ask to please order all accessories
upon reservation, as otherwise we cannot guarantee its availability at the day of the rental.